PROGRAMS
The Friends are involved in both adult and children activities and they provide the funding for these programs.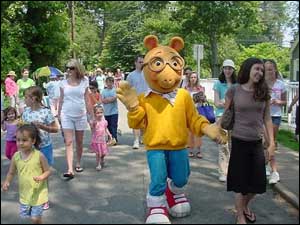 Street Fair with Arthur
SUNDAY PROGRAMS
The Friends invite authors, artists, and world travelers to speak to the public on selected Sunday afternoons, during the fall, winter, and early sprint. These programs are open to the entire community without charge. Refreshments are served and everyone present has an opportunity to chat informally with the speakers.

READING PROGRAMS
Story Hours are conducted weekly by the Library staff for children of various age groups. In addition, special monthly performances are put on by talented persons who specialize in educating children in an interesting way. A varied summer reading program provides stimulation for all ages.